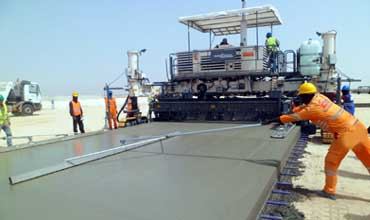 MCE SA currently relies on a variety of specialized paving equipment including 2 Wirtgen slipform concrete pavers, concrete placers, curing machines, workbridges, sawing equipment for depths up to 40 cm of green concrete and a fleet of tipper trucks for concrete placing.
Our equipment ismaintained under the highest standard. MCE SA has partnered with Wirtgen to insure that the SP850 and SP25 are fully checked before every project starts regardless of their regular maintenance schedules. This pre-project verification is performed by a Wirtgen technician from Germany.
CONCRETE PRODUCTION
MCE SA has acquired as part of its runway / Apron business a REXCON 270m3/h plant with over 700 T of cement storage capacity through 2 x 250 m3 silos combined with 2 x 100 fully mobile horizontal silos and the original cement storage of the plant (Fly ash storage is also included). This plant can produce up to 270m3 of conctrete per hour with a 9m3 wet mixer. The preferred concrete delivery system is by tipper truck allowing for maximum concrete placement to optimize the Wirtgen SP850 or SP25 capacity. Our goal is to feed the paver as much as it can use.