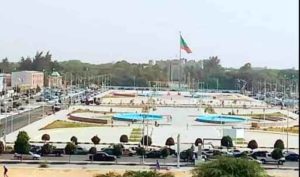 The President of the Republic, Mr. Mohamed Ould Abdel Aziz, proceeded, Monday evening, the inauguration of the place SAHET AlHOURIYA in the center of the city of Nouakchott.
The Head of State has cut the symbolic ribbon as a sign of opening this public square to citizens in search of relaxation, rest, and a place conducive to their other sports and leisure activities.
He then listened to explanations on the measures that it is important to take to preserve this Place and ensure its maintenance but also on its role to reflect a good image of the capital.
The work of this project, financed by the Mauritanian state budget, lasted twelve months. The area of ​​its space is 52 thousand square meters and offers, through its design, its modern aspects and its natural panoramas a privileged place of leisure, rest and relaxation in the heart of the city. It also represents the lungs that the people of New Guinea dreamed of obtaining for their capital.
The construction of this square was supervised by the Ministry of Housing, Town Planning and Regional Planning in close collaboration with the private company " Najah ".
Mr. Nany Ould Chrougha, Minister of Housing, Town Planning and Spatial Planning said that the creation of this great Place in the heart of the capital, Nouakchott offers us the opportunity to appreciate and value the enormous efforts made over the last decade to modernize and develop the country's urban centers, which was reinforced by the organization of commemorative independence celebrations in all the wilaya capitals, which led to effect of changing the image of these cities.
The minister said that Nouakchott benefited from a good part of the policies of development and modernization of cities, implemented by the government.
It is, he says, the achievement of several vital projects to ensure sustainable development such as drinking water networks, electricity, lighting, sanitation and extension networks. road.
For his part, the mayor of Tevragh-Zeina welcomed the President of the Republic and emphasized that the creation of the square SAHET AlHOURIYA composed of green spaces in the heart of Nouakchott is a jewel that air and beautifies the city.
He also emphasized the relevance of the name given to this place, freedom, symbolically high word, because referring to the values ​​embodied by generations of resisters at the price of heavy sacrifices.
The inauguration ceremony took place in the presence of Prime Minister Sidi Mohamed Ould Bashir, members of the Government, Chiefs of Staff of the armed forces and security forces, advisors and representatives of the Presidency of the Republic. the Republic and the first ministry and wali of Nouakchott.
Source : http://fr.ami.mr/Depeche-49772.html